Home
Welcome!
Hi, my name is Catherine Sanson, welcome to my site. I want to help you in finding the right
choices to live a healthy and fit life. I will show you a new perspective of living healthier.
What do you see yourself looking and feeling like in the next 10 years?
I think most of you want to be flexible, mobile, energized, happy, healthy and fit.
But what are you willing to do about that now?
As a Registered Nurse, mother and fitness enthusiast, health and longevity are my first priorities.
I believe that most diseases and ailments can be prevented by eating healthy nutrient packed foods,
proper hydration, incorporating a daily exercise routine, meditation/deep breathing, relaxation
techniques and adequate sleep.I will teach you my NOWES system. A check off list that is simple
to incorporate in your everyday life. It will help heal your injuries, pain will decrease,
respiratory and immune system will become more efficient. You will feel connected to your
body, heart, mind and be left with a feeling of euphoria,sense of calmness and peace. I will
teach you techniques that I learned as an emergency room nurse to improve your health and
hopefully keep you out of the hospital.
For example; The nurse teaches you to: Deep Breath and Cough. We also have you expand your
lung capacity by giving you an incentive spirometer to breath into. We tell you when you are giving
birth or have an ailment in the lungs to breathe through pursed lips. BUT lets learn to breath
effectively while we are well and healthy! I believe the simple process of proper deep breathing
therefore saturating your cells with oxygen can help rejuvenate the cells of the body by giving it
one of the important ingredients of life, OXYGEN. It is the missing link to better health and
well-being that people need to incorporate in their lives that will help prevent illness in the body.
Getting in shape and remaining in shape should be effective and easy, and it is!
Because I am passionate about health, wellness and fitness it quickly rubs off on others to
get the best out of their total body, mind and spirit workouts.
To help you achieve realistic results I developed my NOWES system, a
systematic, "back to basic" living and eating method that will quickly get you to feel and live
a fitter and healthier life.
The NOWES system is like a jump-start
to a deeper understanding of the basic physiological, mental and individualized techniques
that will help you achieve an improved, intuitive sense of your own body.
It's the A,B,C's of living.
Part of being a RN (Registered Nurse) I've witnessed life and death in the emergency room. What
stood out is that many non accidental ailments could have been prevented or recovery time reduced
if patients had stuck to a healthy diet and exercised at least 30 minutes 3 times per week.
You may not be able to stop that drunk driver behind the wheel that hit you, or prevent the
disasters that sometimes nature creates but you can make it through this difficult time after your
injury, loss, accident, or deep emotional experience. It seems hopeless at first…
After a traumatic event, the body needs time to adequately heal.
Now a days, we humans want a quick cure, a quick fix, a magic pill, but end up only
creating a larger up hill battle to achieve "wellness" because of those so called cures.
This is a time our bodies need specific care and time, and for us to consume a natural
"nature" approach to healing through healthy nutrient dense foods.
The human body is a miraculous machine and if we give it what it needs to heal, I believe it will.
We need to educate ourselves and not believe all the "hype" these big pharmaceutical and
billion dollar company campaigns try to convince us why we need to take their products.
Majority of the time, they are just another overpriced so called "magic pill" that really
does nothing to provide the health seeking individual with real health benefits. I was stunned observing the clear difference between those patients who did and
those who didn't adhere to common sense health rules.
Just take a look at our geriatric population alone, they are on atleast six different prescription
medications ranging from lowering blood pressure, lowering cholesterol, reducing pain, and inducing
sleep. These medications are toxic to the body! Read the adverse reactions on the labels.
Its no wonder many of these individuals feel fatigued, depressed, have a lack of an appetite,
are nauseated and constipated. And instead of looking at the whole body, again their doctors
give them more medications to counteract the adverse reactions to the first medications.
My NOWES system will teach you a new way to live a better healthier life.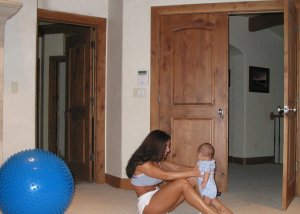 In my own life, after giving birth to my first child, a healthy boy, I stuck to my personal nutritional
and physical convictions and was back in a bikini, shooting a Calendar, merely 3 months after delivery.
In fact, I was in the best shape of my life and decided to compete in the Utah classic, while
breastfeeding, so I had to keep eating healthy foods which meant no extreme "carb cutting," or taking
sports supplements with stimulants in them. Lots of wheat grass and fresh squeezed carrot juices, salads
and organic lean meats did miracles with my figure and endurance. And above all, my son too loved the
near endless flow of milk that his relentless thirst triggered.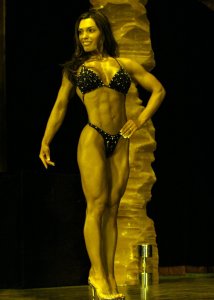 In 2004, further testing my NOWES system, I competed in my first figure competition,
the Utah Spring Classic and placed 2nd while still breast feeding my then 6 month old son.
Still not convinced that I had tried all variations of diet and training, I entered the 2005 GNC
California State Championships and placed 3rd and qualified me to compete in the Nationals. I
registered to compete in the USA Nationals in Las Vegas Nevada but had to cancel the show.
Unfortunately, at this same time, I was also weening my son off breastfeeding which was not an easy
task to do only a week out ofcompeting. And if anyone knows about this experience, breasts can be
very tender, painful and engorged. It was an experience I did not anticipate would affect me so
greatly. It took several weeks before both my son and I transitioned. However, I still
managed to compete in the Team Universe held in New York which was held less than a month
after the USA. I placed 11th out of 30 competitors in my class. Not bad for my first National
figure show, but my life is more than placing in figure and bodybuilding contests.
In 2011, I was hit by a careless driver running a red light and it left me with injuries that I
still deal with today but being educated in nutrition, treatments and exercise they are easier to manage.
The key is to make exercise and yoga stretching a daily part of your life, focused deep breathing including meditation and eating a balanced healthy diet filled with majority of organic fruits and vegetables.
In good health, fitness and love,
Catherine Therese Sanson, R.N.
"You can change the world by being yourself."
Follow @Catsanson